In March we reported the results of a sales lead survey gauging your success at Photonics West 2013. This month we've done the same with the SPIE Defense, Security & Sensing (DSS) show. Some of the results were consistent from show to show; however, attendees of DSS reported less lead success year over year and compared with Photonics West leads.
The full results are in a downloadable SlideShare presentation embedded below, but here are some highlights:
The average total of leads per 10 foot booth area was 25, compared to 42 at Photonics West.
Several respondents commented on year-over-year decline in leads at DSS.
Like with Photonics West, 1 in 3 DSS leads were qualified.
For those who exhibited at DSS in 2012 and 2013, ALL respondents experienced weaker and/or fewer leads.
Overwhelmingly, respondents consider Photonics West the best show for lead generation.
Most respondents expressed that the sequester has had a low to moderate impact on their business.
Quantity vs. Quality of Leads
The number of DSS leads was about half that of Photonics West. While this might seem discouraging, it is important to consider the audience of each particular trade show. When a show's area of interest is especially focused, the leads you garner, even if few, could end up having greater value to you in the long run. The types of projects gained from DSS leads, for example, might last several years and therefore turn a larger profit than a few smaller projects would. It is advisable, then, to choose shows with the best-fit attendees for your business. "Ask shows vying for a spot on your trade show schedule to supply detailed attendee demographics," suggests Skyline. "Look at their attendees' job titles, industries, company size, location, and if they have it, average annual budget…Compare show by show, and consider only the shows that bring more of your target audience, or a higher percentage." Read our other post for more tips on trade-show preparation and follow-up.
Sequester Impact
Responses were mixed on the impact of the sequester. A slightly higher percentage of respondents said they "agreed" or "strongly agreed" that the sequester had impacted their prime or DOD contracts than "disagreed" or "strongly disagreed." While the sequester has had business impact, several respondents indicated that even under the sequester, some programs were still ramping up. Additionally, SBIR grants appear to have escaped the budget ax and continue to be an important source of work and revenue for a few respondents.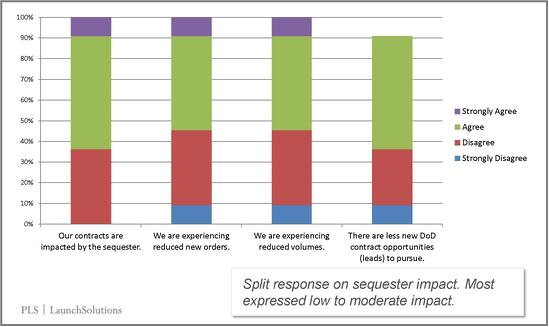 View the full results on the SlideShare presentation below, and click the link to download.