As we gear up for FABTECH 2019, we'd like to take a step back and look at the market drivers, upcoming trends, and widespread changes in the advanced manufacturing market. Our experience last year told us that we would see growth in additive manufacturing, automation, and artificial intelligence (AI). The jury is still out on the numbers for specific growth in these areas, but we have certainly seen some market indicators over the past twelve months.
If you're interested in learning more about sales and marketing in the advanced manufacturing industries, check out our presentation slot at FABTECH this year!
The Growth
We have seen a steady increase in industrial robot sales over the past half-decade, with a vast reduction in prices along the way (about 65%). We also see the estimates for reduced manual labor as we enter a new decade: we're expected to rely on 35% manual labor in manufacturing by the end of 2029, from our current 48% reliance. What does this mean for the industry in terms of job prospects?
This indicates a big shift in the types of jobs the industry will be seeking to fill, but not necessarily the number of jobs available. We know technology historically creates more jobs than it destroys, we just don't know how or when this will be the case in advanced manufacturing.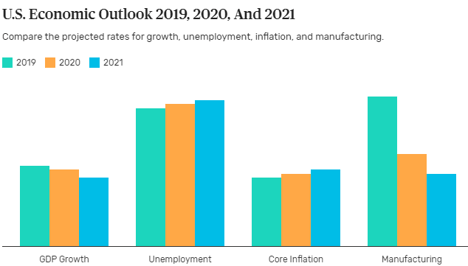 Despite the potential for employment shifts, manufacturing outlook in the U.S. is outpacing the expected GDP growth, at least over the next few years. Taking a look at the graphic on the left, depicting the Federal Reserve's expectations, there is certainly a downturn in market outlook across the board, but manufacturing is remaining on top. This is something to keep an eye on as we enter 2020.
Although we have seen a rapid increase in sales and machine installations over the past few years, 2019 brought some tough times for manufacturers in the U.S.
The Slow-Downs
Manufacturing in the U.S. hit a 10-year low in the later months of 2019. This dip can largely be
attributed to trade war activity between the U.S. and China, increasing tax costs, lowering business confidence, and increasing costs for many manufacturers. The image on the right depicts the decline of the The Purchasing Manager Index over the past 12 months. Global trade has become a huge issue for domestic and international manufacturers alike. We spoke with experts in trade tensions over the summer about this, putting out a tariff webinar, tariff FAQ, and two tariff blog posts. If trade practices continue in this manner, we will likely see manufacturing output and business confidence decrease.
We are looking forward to seeing this year's advancements in the industry at FABTECH 2019. Every year we are surprised by new technologies and the creative ways they are implemented. If you'd like to get notified when we post about our experience at the show, subscribe to our blog!

---
About Launch Team, Inc.
We are a multi-dimensional, highly focused marketing firm that has helped companies in technical and engineering-driven industries succeed. We've been doing this for over 30 years, increasing and improving our offerings along the way. Our team's backgrounds include optics, chemistry, biology paired with a core business and marketing focus. This allows our team a unique understanding of your business, the decision makers you work with, and the engineers who will evaluate your solution.