At a trade show that features the latest in the fast-developing field of unmanned technology, there is a lot of interest and noise. It's the Wild West, and market leadership is up for grabs. So how do you make sure your company's booth draws attention and traffic? Effective demos are key. Unique approaches to booth advertisement will get you noticed, too.
We noticed a number of powerful tactics at XPONENTIAL 2017. The following tactics are just a few your team could apply to any large trade show strategy.
1. Advertise in Unconventional Spots
Making sure attendees remember your name and booth number is a challenge. You can put signs in different locations on the exhibit floor, but nothing guarantees views. So where will you have attendees' undivided attention? The restroom is a good place to start!
Hear us out for a minute. North Dakota UAS used placements on the back of stall doors and on sink mirrors. The unexpected and unavoidable placement of these posters alone made them eye-catching; combine that with humor and bathroom-goers are all but guaranteed to remember NDUAS.
Other companies took advantage of the XPONENTIAL app to plug their booth. For a trade show and an industry based on advanced technology, it was likely that a majority of attendees would use the show's app. Automatic notifications were pushed out to app users to remind them to visit a specific booth and learn about that company's technology. These push notifications were effective for both timelines name recognition.
2. Don't Just Sell – Engage
Collaboration is necessary in unmanned technology. Northrop Grumman emphasized that point in both their booth design and their keynote. Their theme of "The Next Big Thing" was about more than their company; it referred to the collective effort that it will take to advocate for and advance unmanned technology.
At the Empire State Development booth, which was devoted to showcasing New York's developments in the industry, the booth design itself suggested collaboration, not sales. With plenty of in-booth meeting spaces, organizations including GENIUS NY and OmniMesh were able to have productive conversations with attendees. The tables and couches in the booth were all occupied with engaged visitors as we stopped by to say hello to our fellow high-tech Upstate New Yorkers.
It's been an inspiring four days at the #auvsixpo. We were proud to showcase New York's unique capabilities for fostering #UAS businesses. pic.twitter.com/bszj1s5DVw

— EmpireStateDev (@EmpireStateDev) May 11, 2017
3. Create a Buzz – Literally
Demos could be found nearly everywhere you turned on the exhibition floor. The more noise a demo was creating, the more heads it seemed to turn. The UAVs buzzed around the booths, drawing the attention of attendees. Intel's booth staff talked through simulated applications and answered visitors' questions.
4. Let People Play
While most of the flight demos were well planned and choreographed, several exhibitors let attendees test the technology for themselves. Thermal imaging demos showed attendees walking by the booth in real time. Virtual reality companies used screens to display live use of their technology.
These booths seemed to have constant traffic and observers, the booth staff welcoming any chance to show off their advanced tech.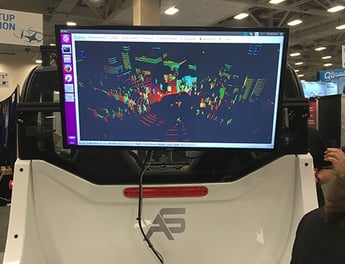 Image credit: Adam Dunn, Rochester Precision Optics
Want to improve your strategy for the next trade show? There's still time to request a trade show booth evaluation report at XPONENTIAL 2018!