Collateral has become something of a dirty word around the Launch office. When customers ask us for a brochure, it's often because they feel like they ought to; it's a cost of doing business rather than an asset or key part of their sales process. For traditional brochures, we'd tend to agree, but that's not to say that print doesn't have its place.
Printed pieces that are unique yet on-brand can help you stand out. Incorporating texture, in particular, can be surprisingly effective. In our over-stimulated, noisy world, we think touch is the last dimension.
One simple but stellar example that is still sitting on our desks is a business card affixed to a product sample, an optical polishing pad. It combines an interesting texture and shape with a direct connection to the company's offering.
Our recent design projects have included:
Embossing
Our new note cards and business cards include an embossed logo on heavy, textured cardstock, which literally feels consistent with our brand.
Metallic foil
This Danish client's customer base includes royalty and celebrities, and the subtle gold accent gives their business card an added hint of illustriousness.
3D elements
Curved signage and display pieces—plus a round, colorful booth snack (marshmallows!)—were in sync with Optimax's brand at Optifab 2015.
While not a paper product, another way to incorporate touch into your trade show booths is through a hands-on activity. During Optifab, we stocked our client's booth with nanoblocks (a mini version of LEGOS), and we invited people to stop and build. This was a fun way to get people in the booth and start a conversation.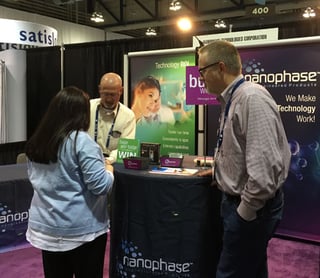 Now back to brochures. JP Midgely, CEO of Avalon printing, reminds us that a high-quality brochure can still offer several benefits, including the ability to:
Focus your message for a specific target market
Attract customers who aren't as tech-savvy or who like the personal touch of a leave-behind
Remind prospects of your face-to-face meeting after the fact
Differentiate through options like paper weight, texture, shape and finish
At a trade shows such as Photonics West, even if someone is interested in your company, they're likely to toss your brochure as they pack their carry on. But, if you mail your brochure after the show, it serves as a tangible touchpoint for connecting with your prospect.
As you prepare for tradeshow season, take a fresh look at your collateral to ensure it's worth the paper it's printed on. Our recommendation? Print better and fewer pieces with a memorable twist.
Request an assessment for a fresh perspective on your marketing.